Scholars and researchers of the Faculty of Humanities of the University of Latvia as highly acclaimed experts in the humanities participate in the implementation of various national and international projects, for instance, ESF projects, the SEDA projects, State Research Programmes, International HEI Network projects, and others.
Various research projects, including projects of State Research Programme and Erasmus+ programmes, are being implemented at the Faculty of Humanities.
Projekta Nr.: VPP-LETONIKA-2021/1-0006
Projekta īstenošana: 20.12.2021.–19.12.2024.
Projekta vadītāja - Dr. philol. Ilze Auziņa (LU Matemātikas un informātikas institūts)
Projekta "Mūsdienu latviešu valodas izpēte un valodas tehnoloģiju attīstība" (LATE) mērķis ir veikt mūsdienu latviešu valodas fonētiskās, gramatiskās, leksiskās sistēmas, kā arī latviešu zīmju valodas izpēti, izmantojot datos balstītas metodes un attīstot ilgtspējīgus latviešu valodas resursus un rīkus. Lai sasniegtu izvirzīto mērķi, tiks attīstīta digitālā infrastruktūra valodas pētniecībai un tiks izveidoti jauni un papildināti esošie valodas resursi: latviešu valodas runas korpuss, latviešu zīmju valodas paraugkorpuss, leksiskā datubāze Tēzaurs.lv un "Mūsdienu latviešu valodas vārdnīca". Veicot datos balstītus latviešu valodas pētījumus, tiks pilnveidots gramatiski marķētais latviešu valodas korpuss un fonētiski fonoloģiskās sistēmas apraksts. Projekta laikā izveidotie un pilnveidotie resursi tiks iekļauti vienotajā latviešu valodas digitālās pētniecības infrastruktūrā CLARIN-LV un izmantoti runas transkribēšanas, pēcrediģēšanas un subtitrēšanas platformas LATE izstrādē.
LU Humanitāro zinātņu fakultāte projekta īstenošanā ir viens no LU Matemātikas un informātikas institūta partneriem. LU HZF Latvistikas un baltistikas nodaļas prof. Andra Kalnača ir projekta virziena "Datos balstīti latviešu valodas gramatikas pētījumi" vadītāja. Šī virziena uzdevums ir latviešu valodas gramatikas vienību un to variantu semantiski pragmatiski pētījumi, izmantojot dažādu korpusu sniegtās iespējas valodas materiāla atlasē un analīzē. No LU HZF Latvistikas un baltistikas nodaļas projektā piedalās prof. Dr. philol. Andra Kalnača, asoc. prof. Dr. philol. Ilze Lokmane (abas - galvenās izpildītājas), Dr. philol. Daiga Deksne, Mg. hum. Tatjana Pakalne, kā arī studentes Mg. hum. Emīlija Mežale, Bc. hum. Klinta Mellupa un Paula Kļaviņa (visas - ekspertes).
Informācija par projektu "Mūsdienu latviešu valodas izpēte un valodas tehnoloģiju attīstība" pieejama http://www.digitalhumanities.lv/projekti/vpp-late/

Principle Investigator of the subproject – Professor Andra Kalnača; Principal Investigator of the project – Professor Ina Druviete.
The subproject (2018-2021) includes the development of the encyclopaedic dictionary of grammar that will contain the hierarchical description of grammatical notions, the overview of the Latvian grammatical system in the context of the general linguistics, pragmatics, cognitive linguistics, second language acquisition, stylistics, rhetoric interfaces. The research group of the subproject consists of the academic staff and researchers of the Department of Latvian and Baltic Studies and the Department of the Classical Studies of the Faculty of Humanities. PhD, Master and Bachelor students of the Faculty of Humanities, whose research work is related to the subproject theme, also participate in the project.
Key experts: Professor Andra Kalnača, Associate Professor Ilze Lokmane;
Experts: Professor Ilze Rūmniece, Associate Professor Gita Bērziņa, Assistant Professor Inta Urbanoviča, Research Assistant Evelīna Zilgalve, Research Assistant and PhD candidate Tatjana Pakalne, Research Assistant and PhD student in Linguistics Lauma Šime, PhD student in Linguistics Daiga Deksne, PhD candidate Jana Taperte, Master of Humanities Guna Zvīgule, Master programme students Zane Grudule and Katrīna Narbute, Bachelor programme student Klinta Gaisa.
Principal Investigator of the subproject – Professor Andrejs Veisbergs, Principal Investigator of the project – Professor Ina Druviete.
Subproject involves the studies in bilingual lexicography, contact linguistics, translation studies with Latvian as a target language. A monograph on translations into Latvian in the 20th century will be produced as well as study aids for translators and editors.

The Fuzzy Concept of Idiom and what it might Mean for Bilingual Dictionaries. Baltic Journal of English Language and Literature No.9.2019.
Key experts: Dr. philol. Gunta Ločmele, Dr. philol. Indra Karapetjana, Dr. philol. Experts: Dr. philol. Gunta Brjuhovecka, Dr. philol. Ivars Orehovs, Dr. philol. Laura Karpinska, Dr. philol. Guntars Dreijers, Dr. philol. Jānis Veckrācis, Mg. philol. Aija Sīle.
In order to research translatology issues in a broader context, the following experts are invited to participate in the project: Dr. philol. Astra Skrābane (French language), Dr. philol. Alla Placinska (Portugal language), Dr. philol. Igors Koškins (Russian language), Mg. philol. Ērika Krautmane (Estonian language), as well as PhD students: Irina Kaļiņina (University of Latvia), Dens Dimiņš (Islandic University).
Principal Investigator – Professor Janīna Kursīte-Pakule
The significance of the research of identity is related to the global challenges broadly discussed in the public space, to the possible outer and inner threats, to the increasing influence of other cultures that make us ask questions about the preservation of the national and ethnic identity. The closer contact with other cultures in the context of migration creates new identities that demonstrate the necessity to preserve the traditional Latvian identity in the socially and culturally changing environment. The additional challenge in the changing environment is to understand, document and preserve the traditions.

The project has been implemented since 2016 at the Faculty of Humanities, Department of Latvian and Baltic Studies, Division of Ethnology and Folklore Studies. The research directions include various parallel levels: research of the regional identity; models of the Latvian identity in Latvia and abroad; manifestations of the traditional culture nowadays.
Principal Investogator – Professor Jānis Priede
The aim of the project is to develop an independent sub-programme of the Korean language and culture, creating the pre-conditions for long-term studies. The objectives of the project include the following: to develop and publish a textbook for the acquisition of the Korean language (intermediate level), to organize the scientific conferences and seminars for researchers of the Korean and Asian studies in the Baltics, to popularize the Korean studies, to publish literature related to the Korean studies, to support outstanding MA and BA students.
Principal Investigator – prof. Ieva Kalniņa
The research focuses on literary fiction and cookbooks created in Latvia from the aspect of gastropoetics. The study object is the Latvian literature, also Baltic German, Jewish and Russian fiction written in Latvia, and cookbooks. It is the studying of different texts (fiction and cookbooks) and searching for links between them that grounds the uniqueness of this research. The study goal is to ascertain what connotations and functions are attributed to the depiction of food and drink, eating and drinking, cooking, meals, taste, enjoyment and hospitality (hereinafter referred to as – food); how the changing representation of food reveals transformation in the community and culture; how the construct of national identity and individual self-identity in the literary text is changing. In fiction and cookbooks, food is characterised as the means to satisfy the basic need of a human being, but also as a carrier of multiform communication and information.
The project participants are the following: the researchers of the Faculty of Humanities of the UL from the Department of Latvian and Baltic Studies (I. Kalniņa, M. Grudule, O. Lāms, S. Kušnere, M. Laizāns), the Department of Russian and Slavonic Studies (S. Pogodina), UL Institute of Literature, Folklore and Art (I. E. Kalniņa), Institute of Lithuanian Literature and Folklore (L. Laurušaitė). The students implementing the project are A. Skutelis, a student of the Doctoral programme in Literature, Folklore and Art, and R. Kurpniece and D. Kaņepe, students of the Master Programme in Baltic Philology Along with the literary scholars, the lead investigator Astra Spalvēna, who was the first who presented a doctoral thesis on food in cultural science 'Cultural and contextual analysis of the food adaptations in sign systems", participates in the project. Moreover, Iveta Leitāne, philosopher (University of Bonn), who addresses food as philosophical and religious category in Jewish literature, and Gita Krūmiņa-Zemture, a researcher of the Latvian cuisine history (Faculty of Food Technology, Latvia University of Life Sciences and Technologies) participate in the project.
Principal Investigator – Professor Māra Grudule
In the autumn of 2017, a scientific conference dedicated to a Latvian poet Eduards Veidenbaums was held at the Faculty of Humanities of the University of Latvia and at the Aspazija and Rainis House, the branch of the Museum of Literature, Theatre and Music. Within the framework of the conference, literary scholars and philosophers of different generations evaluated different aspects of the life and work of Veidenbaums. The essay on Veidenbaum's poetry was read by the Estonian translator of Veidenbaums poetry Contra (Margus Konulla) from Tartu. The conference was well attended and provoked discussions.
The collection of articles will include: 1) an introduction and an essay about the Veidenbaums in Estonian, Latvian and English; 2) scientific articles based on conference papers with summaries translated into English; 3) illustrative material from the collection of the Museum of Literature, Theatre and Music; 4) an overview of the translations of Eduards Veidenbaums poetry and an anthology of three of his poems in different translations ("Kā gulbji balti padebeši iet" / "The White Clouds pass by like Swans", "Virs zemes nav taisnības"/ "There is no Justice on the Earts" un "Domāju es domas dziļas"/ "I am deep in thought").
The collection of articles should serve as a tool of actualization of the period of Latvian awakening and it`s poetry as well as - the basis and encouragement for new research, as a source of knowledge about Eduards Veidenbaums and his era for all those interested in cultural history of Latvia.
Principal Investigator – Senior Researcher, Professor Ojārs Lāms
This project with its international team aims at the reactualization of the Neo-Latin heritage of Riga Humanists of the 16th and 17th centuries. It will be done by creating a digital database of representative texts and a formal and contextual analysis of their work in the shape of extended case studies. The overall objective of this project is to go beyond the current status quo in local Neo-Latin and Early Modern studies in order to develop a wider recognition of Riga and Baltic Humanism and to make their heritage readily accessible, as the hard-to-access material is one of the reasons why this branch of Renaissance humanism has been overlooked, underresearched or even unresearched in the context of Nordic Humanism and Northern Renaissance. By doing so the project will uncover its ties with a wider context of humanism and its textual production, and research its role in the development of the local adoption of European values and identity at the time that still plays an important historical and contemporary role in the idenitfication of the cultural and geographical borders of Europe both in Latvia and in Europe.

Project team
Key expert: Senior Researcher Kaspars Kļaviņš (Department of Asian Studies, UL); experts: senior researchers Aija Taimiņa (Academic Library of UL), Ausma Cimdiņa and Māra Grudule (Department of Latvian and baltic studies, UL); researchers: Māris Kūlis (Institute of Philosophy and Sociology, Ul), Mārtiņš Laizāns (Bolzmann Institute, Insbruck, Austria), Ingrīda Klienhofa (Department of Asian Studies, UL), Magnus Frish (Marburg University, Germany), Raimonds Briedis (Latvian Culture academy), master student of philosophy Kitija Mirončuka. During the implementation of the project, the turnover of researchers is also planned, involving other researchers to perform certain tasks.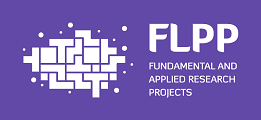 Principal Investogator – Dr. Philol. Liene Kalviša (Latvian National Library)
The aim of the project is to study and describe "semantic cooperation" potential of cultural heritage institutions in Latvia and test particular models of knowledge management potentially applicable to the case of Latvia based on research of vocabularies and datasets available to the National Library of Latvia, which have an open data potential and are necessary for researchers from humanities, social sciences and their digital sub-fields, as well as arts. The goal behind this objective is to make heterogeneous data interoperable in the digital space using structured and verified vocabularies and datasets.
In partnership with the Faculty of Humanities of the University of Latvia the project (project Section "Rainis and Aspasia Collection (RunA)") will promote the transfer of knowledge to other cultural institutions and study environment; will build capacity of university students by teaching new research methods, etc. The project results will directly foster the development of technological infrastructure for cultural heritage and extension of reliable knowledge base for researchers.
Project team: researchers of the University of Latvia, Faculty of Humanities, Department of Latvian and Baltic Studies (Professor Ieva Kalniņa, Lecturer Sigita Kušnere), the students implementing the project are students of the Master Programme in Baltic Philology (Inga Kapeniece, Solveiga Ķīkule).
Principal Investigator – Associate Professor Aivita Putniņa
Violence against women and children has recently been identified not only as a human rights and equality related problem but also one of public health and economics, when estimating the costs in terms of human resources, etc. (e.g. World Health Organization and European Institute for Gender Equality). The situation concerning domestic violence in Latvia is characterized by high reported incidences but also a high degree of tolerance towards violence. We take a comprehensive view of the problem of violence, seeing relationships in families and communities as a primary locus not only for violence but also a place for healing and stability. This is tightly linked to broader national and local violence-prevention policies. In a Latvian context, early problem detection/intervention is the weakest link in the chain and it is embedded in daily family and community relationships. The seeming invisibility, normality and everyday presence of indicators of actual and yet uncommitted acts of violence pose practical difficulties among professionals and laypeople in identifying and estimating the presence of violence or its threats.
The aim of the project is four-fold:
1) to explore perceptions, knowledge procedures and practices surrounding stability, support anviolence at family, community and national policy levels, and contribute to strengthening families
2) to bridge the gap between applied and academic research on violence prevention;
3) to strengthen anthropology as an applied and academic discipline in Latvia;
4) to internationally position the research results and research team.
Experts involved: academic and research staff of the Department of Antropology of the Faculty of Humanities Dr. Garets Hamiltons, Dr. Ilze Mileiko, Zane Linde-Ozola, Artūrs Pokšāns, Kārlis Lakševics, Krisians Zalāns, Māra Neikena, Kate Dudure, as well as students of the Department, who can participate through the development of course, BA and MA papers.
Vadītāja – pētn. Marija Semjonova
No 2017. gada oktobra līdz 2020. gada septembrim LU HZF Dzimtes studiju centrā tiek realizēts pēcdoktorantūras pētnieciskais projekts "Identitātes digitizācija: atmiņa, naratīvs un dzimte kibertelpā". Projekta zinātniskais mērķis ir pētīt, analizēt un pamatot kibertelpā saglabāto atmiņu un individuālo naratīvu iesaistīšanas veidus un īpašības dzimtes identitāšu kultūras dinamikā nacionālajā un reģionālajā līmenī; paplašināt atmiņas, naratīvu un to mijiedarbības analītisko izpratni no dzimtes perspektīvas. Pētnieciskais pasākums tiek izstrādāts, apvienojot inovatīvās disciplīnas un metodoloģijas – digitālās humanitārās zinātnes, netnogrāfijas pētniecisko metodoloģiju, lielo datu analīze humanitārajās zinātnēs (Big Data Analysis in the Humanities) un saistīto datu analīzi (linked data analysis).

Lai sasniegtu zinātnisko mērķi, projektā tiks izstrādātas un vadītas virtuālās un reālās intervijas trīs Baltijas jūras reģiona valstīs – Latvijā, Igaunijā un Somijā. Interviju pamatā ir vēlme izzināt atmiņu 'glabāšanas'prakses virtuālajā vidē, to atšķirības no atmiņas izklāstiem realitātē, kā arī atmiņu kontekstualizācijas principu klātbūtne (kā nacionālā un individuālā vēsture, sociālās defierenciācijas un piederības principu definēšana (klase, dzimte, etnicitāte u.c.). Interviju materiāli tiks saglabāti virtuālās platformas pamatā, kurā tie tiks izmantoti turpmākajai analīzei un kļūs par pamatu inovatīvajam apmācības procesam. Apmācība platformā notiks informācijas apgūšanas virtuālās laboratorijas analītisko iespēju pamatā.

Projekta ietvaros ir paredzēta cieša sadarbība ar Latvijas un ārzemju augstākās izglītības institūcijām un IT sfēras speciālistiem.
Principal Investigator – Ruta Kurpniece
Ubi Sunt is the literature and criticism portal of the University of Latvia. The Faculty of Humanities supervises the work of the portal with the help of the editorial board that consists of students and academic staff of the Faculty. The aim of the project is to overview literary events, processes and current trends in Latvia, as well as to offer a possibility for students to publish book reviews, overviews of literary events, interviews with writers, their own literary works.